Description
Light Weight Care Weight Control Cat Food Royal Canin
-Tasapainoinen ja täysrehu aikuisille kissoille-LIGHT 40 kaava, runsaasti kuituja ja psyllium, on osoitettu vähentävän 17% kaloreita spontaanisti kuluttaman kissa, kun täyttää sen ruokahalu (verrattuna kalliiden keskipitkän kalori elintarvikkeet - Royal Canin Study, 2006. osoittanut tehokkuutensa, kun valo 40 käytetään yksinomaan). -Korkea proteiinipitoisuus (40%) auttaa säilyttämään lihasmassaa ja L-karnitiinin tuet aineenvaihduntaa rasvoja.
Ingredients
Light Weight Care Weight Control Cat Food Royal Canin
COMPOSITION:
Dehydrated poultry proteins, vegetable fibers, vegetable protein isolate*, corn, hydrolyzed animal proteins, corn gluten, corn flour, rice, wheat, animal fats, minerals, beet pulp, yeast and parts thereof, fish oil, psyllium husks and seeds, soybean oil.
*L.I.P. proteins: proteins selected for their high digestibility.
NUTRITIONAL ADDITIVES:
Vitamin A (21 000 IU/kg), vitamin D3 (800 IU/kg), [E1] iron (30 mg/kg), [E2] iodine (3 mg/kg), [E4] copper (9 mg/kg), [E5] manganese (39 mg/kg), [E6] zinc (128 mg/kg), [E8] selenium (0.06 mg/kg), L-carnitine (200 mg/kg).
Preservatives and antioxidants.
ANALYTICAL CONSTITUENTS:
Crude protein 40.0 %,Crude fat 10.0 %,Crude fiber 7.9 %,Crude ash 7.1 %,Calcium 1.2 %,Phosphorus 0.96 %,Magnesium 0.08 %,Arachidonic acid 0.07 %,Biotin 3.2 mg/kg,Chloride 0. 8 %,Choline 2500.0 mg/kg,Iron 191.0 mg/kg,Moisture 7.0 %,Folic acid 14.6 mg/kg,Iodine 2.4 mg/kg,Potassium 0.63 %,Copper 24.0 mg/kg,L-carnitine 200.0 mg/kg,Linoleic acid 2.6 %,Lysine 1.65 %,
Manganese 60.0 mg/kg,Methionine 0.82 %,Sodium 0.5 %,Niacin 160.0 mg/kg,Omega-3 fatty acids 0.45 %,Omega-6 fatty acids 2.8 %,Pantothenic acid 57. 0 mg/kg,Vegetable fibers 15.7 %,Selenium 0.2 mg/kg,Starch 20.2 %,Taurine 0.21 %,Zinc 184.0 mg/kg,Vitamin A 23000.0 IE/kg,Vitamin B1 (thiamine)25.0 mg/kg,
Vitamin B12 (cobalamin) 0.16 mg/kg,Vitamin B2 (riboflavin)50.0 mg/kg,Vitamin B6 (pyridoxine)44.0 mg/kg,Vitamin C (ascorbic acid)300.0 mg/kg
Vitamin D3 690.0 IE/kg
Features
Light Weight Care Weight Control Cat Food Royal Canin
Reference

3182550706810

Weight

3 Kg, 400 GR, 10 KG, 2 KG, 8 KG, 3,5 KG, 1,5 Kg, 10 + 2 KG

Brand

Royal Canin

Units

1

Age

Adult

Flavor

Chicken, ,

Special Cares

Pregnant, Overweight, ,

Pet

Cats

Made in

France

Product Range

Physiological Royal Canin, Royal Canin FCN Feline Care Nutrition, , Royal Canin Feline Care Nutrition, Royal Canin Physiological

Manufacturer

Royal Canin,ESP28000439,Royal Canin Ibérica, S.A. PLAZA CARLOS TRIAS BELTRÁN, 4 Madrid 28022 MADRID (ESPAÑA),

Condiciones Nutricionales

Nutritional Conditions

,

Gusto
Customer Reviews
Light Weight Care Weight Control Cat Food Royal Canin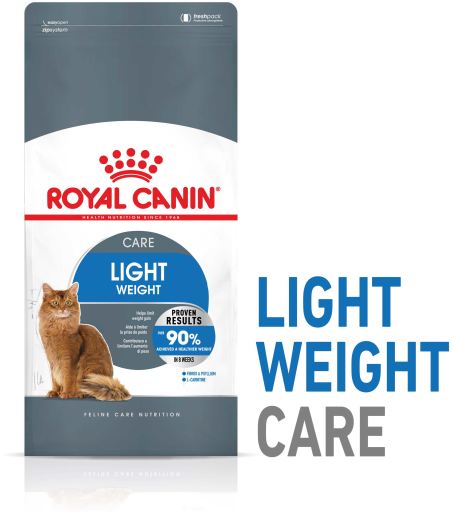 Sinon je ne les commanderais pas mais chres
Rao de excelente qualidade
Me gustara que hubiera disponible un formato mayor y mas econmico